05 Jan 2023
E-Service brings one-stop solution to payment challenges to the London stage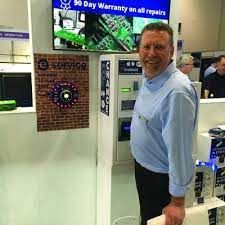 E-Service will be bringing its expansive range of payment solutions to EAG this year, including a game-changing solution for battery powered pool tables. Ahead of the show, MD Mike Clokie spoke to Coinslot about the "best in class" products on offer.
Q: It has been an unusual year for the industry delivering both significant opportunities and challenges, all of which makes EAG 2023 even more important. What are you hoping to get from January's show?
Mike Clokie: We are looking forward to getting the year off to a great start, seeing customers, taking orders and catching up with industry friends and colleagues.
Q: Looking ahead to the three days, can you give us an idea of what visitors will be seeing on your stand this year?
Mike Clokie: Cash or cashless – whatever payment solution you are seeking, E-Service has you covered at EAG 2023 on stand 240. From change machines and token dispensers to individual spare parts and the finest pool cloth on the market, E-Service can supply it all, as well as being a specialist provider of payment solutions. Taking centre stage on the E-Service stand at EAG 2023, will be the e-Payhub, a unique cashless payment option for battery powered pool tables – which has until now been a challenge for operators.
Q: Now the sales pitch – what are the 'must-have' reasons for customers looking to buy your products at EAG? Is it the commercial deal, their return on investment or the fact that they're just good products people will engage with?
Mike Clokie: The benefits of the e-Payhub solution are clear to see, simple plug and play, long battery life, works with all major bank and credit cards, maintains the player journey and if you need more justification, a single e-Payhub can be paired with up to 4 receivers, making it a cost-effective solution for multi-table venues. The problem has always been that fitting a card reader directly to a table would result in a battery life of approximately 3 days, clearly not a workable solution. We have designed and developed the e-Payhub, which maintains battery life similar to that of a coin-operated table, provides for coin and contactless operation and does not require E-Wallets, mobile accounts or any pre-registering by the player.
This results in a player journey which is as frictionless as playing with cash – one tap of a card and press the button and they are ready to play pool! The e-Payhub point-of-sale unit can be wall or bartop mounted within 15 metres of the table and is paired to a low-powered receiver located within the pool table. This simple plug and play device is installed and working in minutes. Running in conjunction with the existing coin mechanism or in standalone cashless mode.
The e-Payhub is optimised to work with all types of contactless card readers such as the Nayax Onyx and Payter P66. Providing the card reader supports MDB communications protocol any card reader can be utilised allowing operators to work with their chosen payment solution provider.
Q: Can you talk us through some of the new innovations and promotions that we should be looking out for at EAG?
Mike Clokie: In addition to the e-Payhub, E-Service will unveil other new products at EAG, including the Nova 45 and 55, in conjunction with leading payment solutions provider Nayax.
These hand-held point of sale devices are configured and customised specifically to each individual business, and once connected to your Nayax account they enable you or your staff to take payments anywhere. Select or scan products, accept all major credit and debit cards, deliver printed or digital receipts, all from a smart all in one handheld POS unit.
Q: Hopefully we've got a good run at trading this year, in terms of product and development, what's your focus in the coming months?
Mike Clokie: We are dedicated to providing products and services to the industry that are best in class.
We are already known for our wide range of parts and components and the market-leading repair service that we offer to the industry. Increasingly, we are now carving a niche with TITO installations and other cashless payment solutions such as the e-Payhub.
As we also carry the top brands of casino-quality cash handling solutions from the industry's leading brands, this makes us a specialist payment provider and we will continue to move forward in this direction.
Interview Courtesy of Coinslot