16 Feb 2023
EAG provides platform for MS Society presentation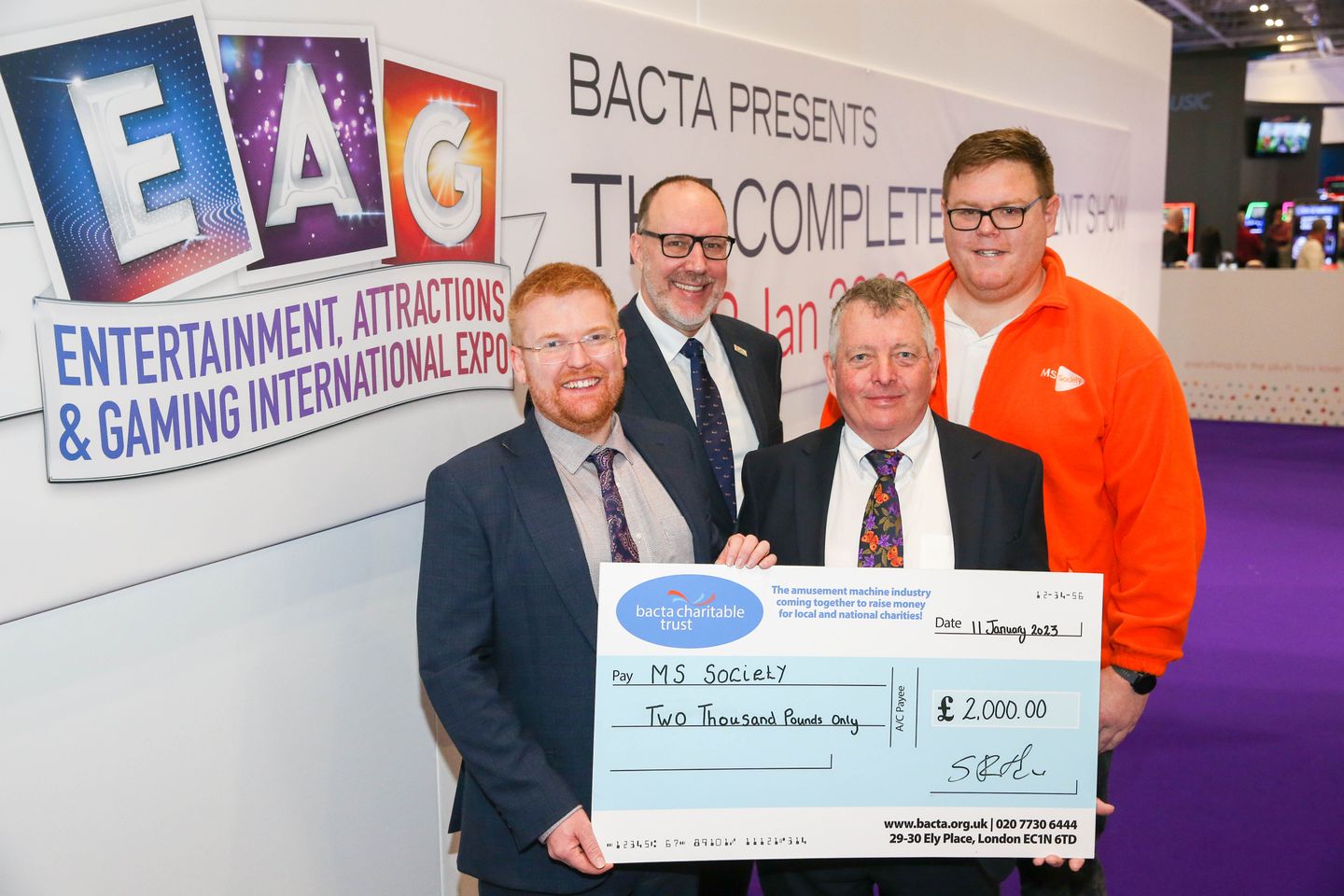 The Multiple Sclerosis Society (MS Society) has reached out to the industry to say a big thank-you for the donation it received at last month's edition of EAG. The annual business-to-business event for the UK amusements and low stake gaming sectors was chosen as the venue to present the MS Society with an additional £2,000 to add to the £3,000 in sponsorship raised by bacta member Nick Rudd.
Naomi Cromby, Community Fundraiser for the MS Society said: "We were absolutely delighted to be invited to attend EAG to accept this generous donation. We estimate there are over 130,000 people with MS in the UK, and that nearly 7,000 individuals are newly diagnosed each year. Once diagnosed, MS stays with you for life, but treatments and specialists can help manage the condition and its symptoms.
"Our vision is for a world free from the effects of MS and the positive news is that we're getting closer. Investing in research areas such as MRI scanning has helped understand more about MS than ever before. Every big breakthrough is the result of years of hard work which is why the support of individuals such as Nick and donations from organisations such as the bacta Charitable Trust are so important and so gratefully received. On behalf of the MS Society I would like to say a huge thanks to everyone who helped make this happen."
Steve Hawkins, Chairman of the bacta Charitable Trust added: "Following Nick's magnificent effort completing the Great North Run which generated £3,000 in sponsorship the Trust was delighted to use its discretionary powers to take the donation up to £5,000."
"EAG is a cornerstone of the UK industry and it was fitting to use its profile and platform to celebrate the unique character and personality of the business it serves. I have always felt that one of the stand-out characteristics which runs through the industry is its incomparable generosity of spirit and steadfast commitment to help those in society who are less fortunate. The bacta charitable Trust which has raised and distributed in excess of £2m reflects these unique characteristics and I am delighted that it has been able to support the fund-raising undertaken by Nick Rudd on behalf of such a worthy cause."EAG 2023 served as a celebration of the UK industry attracting 3,469 industry professionals a 36 percent uplift on attendance at the last edition of EAG held in March 2022.