05 Jan 2023
Novomatic UK looks forward to 'lively and friendly' EAG with state-of-the-art range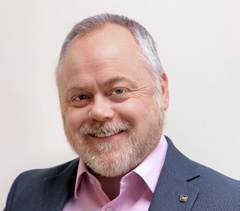 Novomatic Gaming UK is promising 'something that suits the requirements of every operator' at EAG this year. Ahead of the event, MD Phil Burke spoke about the standout software and game portfolios to be found alongside its popular cabinets, and cash management systems.
Q: It has been an unusual year for the industry delivering both significant opportunities and challenges, all of which makes EAG 2023 even more important. What are you hoping to get from January's show?
Phil Burke: The atmosphere at EAG is always lively and friendly and it is the first show of the year for us at NGUK.
We are looking forward to connecting with our customers from across the country and showcasing our latest developments and innovations.
We have been working on some fantastic new product and software solutions for the AGC and Bingo markets, all of which our customers will be able to experience first-hand at the exhibition.
Q: Looking ahead to the three days, can you give us an idea of what visitors will be seeing on your stand this year?
Phil Burke: In previous years our primary focus has been on our state-of-the-art gaming cabinets, however this year the star of the show is our software and game portfolios. We are very fortunate to have three brilliant platforms, B3 Magic Games Premium HD, CAT C Magic Games Premium HD and B3 NovoLine all of which offer an extensive and diverse range of game titles. Furthermore, we will be showcasing our NOVO CASH cash management systems which include the X6+ and the brand-new X4 redemption machines, alongside our impressive range of gaming cabinets the Thaumic, Panthera, VIP II and the iconic VIP Lounge. There will be something that suits the requirements of every operator at the NGUK stand.
To kick off 2023 and the show season we will also be holding a very exciting event on our stand, which all of our customers will be able to engage in. If you are ready to immerse yourself in the world of Novomatic Gaming, visit us at stand 170.
Q: Now the sales pitch – what are the 'must-have' reasons for customers looking at your services at EAG? Is it the commercial offering, the opportunities the partnership can bring or your expertise?
Phil Burke: Novomatic Gaming UK is a leading supplier of gaming equipment in the UK and our expertise and attention to detail is second to none.
If our customers are looking for bespoke solutions for their gaming floors, that is what we can offer them. Everything from cash management and promotional signage to modern ergonomic cabinets, we are able to support this all in-house and provide our customers with products and software that will bring their vision to life.
Q: Can you talk us through some of the new services and promotions we should be looking out for at EAG?
Phil Burke: Exclusively for EAG 2023 we will be running a very exciting promotion that our customers can participate in and then integrate into their own operations.
Additionally, we will have a very special guest as industry stalwart Robert Higgins will be temporarily suspending his retirement to join us on the stand!
Q: Hopefully we've got a good run at trading this year, in terms of product and development, what's your focus in the coming months?
Phil Burke: Our focus as always is our customers and meeting their expectations, we work very closely with our customers to provide them with exceptional service and solutions.
Additionally, we have a number of brand-new games being launched on the B3 NovoLine platform over the next 12 months as well as multiple new products that will further enhance the Novomatic Gaming UK product portfolio. Finally, we would like to take this opportunity to thank the new organiser of the EAG Exhibition Nicola Lazenby for planning a brilliant show and we welcome customers to experience our latest innovations at stand 170!
Interview courtesy of Coinslot