06 Feb 2023
'It's so important as a business to give back': Novomatic hails importance to local communities at £10,000 EAG presentation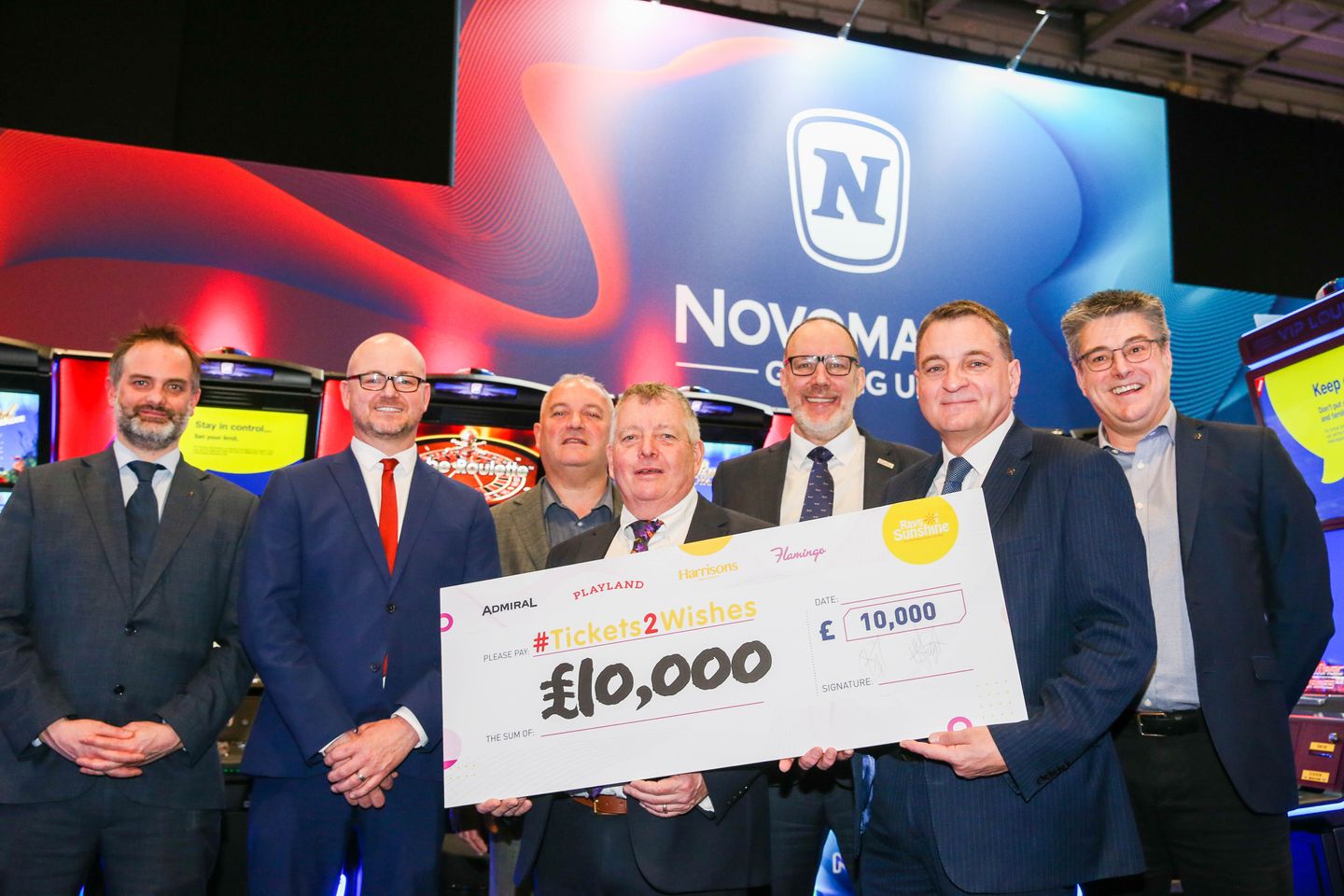 Novomatic presented £10,000 to charity at EAG this year after matching customer donations made at its five seaside FECs through bacta's Tickets 2 Wishes initiative. Regional operations director Shaun Hooper hailed the strong footfall at its seaside FECs as fundamental to its ongoing charitable giving, proving how arcades continue to channel the tourist economy into community benefit.
£10,000 is a fantastic sum of money – can you explain how the funds were raised and whose idea it was?
Shaun Hooper: The money was raised largely through the bacta Tickets 2 Wishes fundraising scheme, where customers donate unused or unwanted redemption tickets at our seaside based Family Entertainment Centres.
We presently operate five such businesses in Hastings, Dawlish, Newquay and Redcar. Given how generous our customers were, we decided to match their fundraising efforts for this fantastic cause.
Did the fundraising involve consumers/players as well as the Novo team?
The level raised was majority down to our customers' donations and it really is testament to their generosity. Clearly the footfall in our seaside locations over the last 12 months has helped immeasurably with this and is really a testament to how important such resorts – and other seaside businesses – are for the economy but also for good causes.
Do you think having a fundraising focus is good for team morale, fostering solidarity and a sense of purpose
Absolutely! Given where we are economically and the cost of living crisis, you can see a large number of people needing to reach out for charitable support and for our staff, and wider business, to know that we are doing something in support of that represents their values incredibly well.
How important do you think it is to provide support for smaller charities such as Rays of Sunshine?
It's absolutely vital. As a business we do a lot for charity, including work fundraising for the British Heart Foundation this year as it's so important as a business to give back.
That said, we've been fundraising from our seaside resorts for Rays of Sunshine for a number of years and intend to continue into the future. We have previously hosted Rays of Sunshine children and their families at our FECs and very much look forward to doing so again, as it is always a fantastic experience for everyone involved – the families and our staff alike. Given seaside resorts are about family fun – and we all have a lifetime of childhood memories from those trips to the seaside – their mission really aligns well with the target audience for these businesses in coastal resorts.
The bacta Charitable Trust has raised and distributed in excess of £2m – do you think this reflects well on the industry and its support for those who are less fortunate?
It's absolutely brilliant, isn't it? It's very easy to point fingers at our industry but the reality is through our trade association and independent charitable arrangements, all operators really do give a staggering amount back to the communities in which we operate. It's something I'm incredibly proud of and really hope that despite tough times, as an industry we're able to continue doing so for many years to come.